Events
Palm Sunday
Triumphal Entry
(Mt 21:1-11, Mk 11:1-11, Lk 19:29-44, Jn 12:12-19)
Monday
Cursing of the Fig Tree
(Mt 21:18-19, Mk 11:12-14)

Cleansing of the Temple
(Mt 21:12-17, Mk 11:15-19, Lk 19:45-48)

Busy Tuesday
Lesson of the Withered Fig Tree
(Mt 21:18-22, Mk 11:20-25)

Challenge of Jesus' Authority
(Mt 21:23-27, Mk 11:27-33, Lk 20:1-8)

Parables of Warning
(Mt 21:28-22:14, Mk 12:1-12, Lk 20:9-19)

Debate with Jewish Leaders
(Mt 22:15-46, Mk 12:13-37, Lk 20:20-44)

Denunciation of the Scribes and Pharisees
(Mt 23:1-39, Mk 12:38-44, Lk 20:45-21:4)

Discourse on the Last Things
(Mt 24-25, Mk 13, Lk 21:5-36)

Silent Wednesday
Conspiracy of the Chief Priests
(Mt 26:1-5, Mk 14:1-2, Lk 22:1-2)

Two Flashbacks: Anointing of Jesus and Plot of Judas
(Mt 26:6-16, Mk 14:3-11, Lk 22:3-6, Jn 11:45-12:8)

Maundy Thursday
The Last Supper
(Mt 26:17-35, Mk 14:12-31, Lk 22:7-38, Jn 13-17)

Gethsemane
(Mt 26:36-46, Mk 14:32-42, Lk 22:39-46)

Betrayal and Arrest
(Mt 26:47-56, Mk 14:43-52, Lk 22:47-53, Jn 18:1-14)

Trial before the Jewish Authorities
(Mt 26:57-75, Mk 14:53-72, Lk 22:54-71, Jn 18:15-27)

Good Friday
Trial before Pilate
(Mt 27:1-31, Mk 15:1-20, Lk 23:1-25, Jn 18:28-19:16)

Crucifixion
(Mt 27:32-56, Mk 15:22-41, Lk 23:26-49, Jn 19:16-37)

Burial
(Mt 27:57-61, Mk 15:42-47, Lk 23:50-56, Jn 19:38-42)

Saturday
Watch at the Tomb
(Mt 27:62-66)
Easter Sunday
The Resurrection
(Mt 28:1-10, Mk 16:1-8, Lk 24:1-12, Jn 20:1-18)

The Report of the Watch
(Mt 28:11-15)

Emmaus Disciples
(Lk 24:13-35)

Appearance to the Ten in the Upper Room
(Lk 24:36-49, Jn 20:19-23)
Jerusalem during Holy Week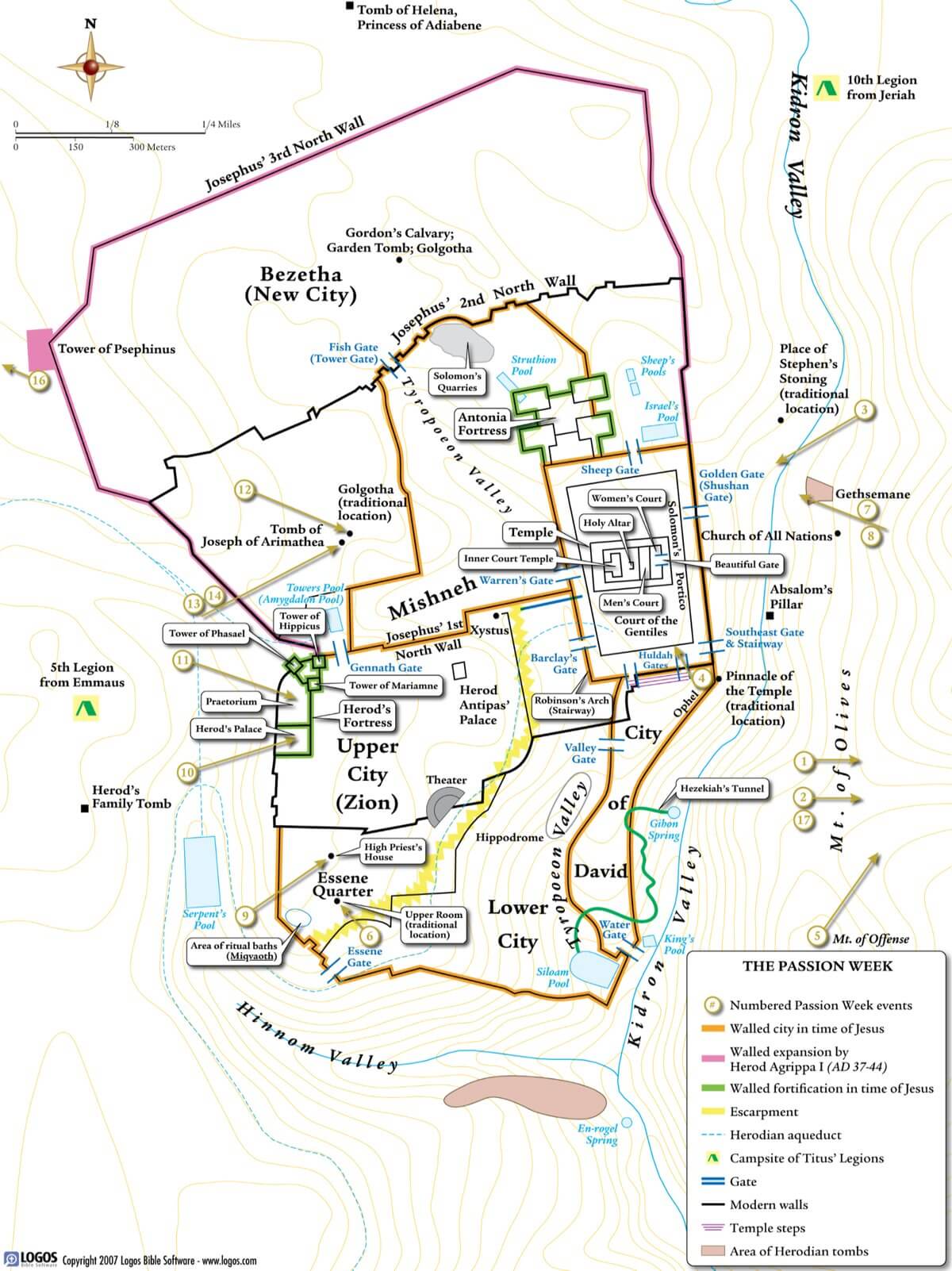 1
At Bethphage, Jesus sends two of his disciples to find a donkey for his Triumphal Entry into Jerusalem.
2
At Bethany, Jesus is anointed by Mary, the sister of Martha.
3
The location of Jesus' Triumphal Entry
4
On his way to the temple, Jesus curses a fig tree.
When Jesus arrives at the temple, he cleanses the temple courts.
5
Jesus spends the night in Bethany.
6
On "Busy Tuesday," Jesus teaches in the temple courts.
7
Jesus eats the Passover meal with the disciples in the Upper Room.
8
Following the Passover meal, Jesus and his disciples go to the Garden of Gethsemane where Jesus prays and is eventually arrested.
9
Jesus is taken to the house of the High Priest and interrogated.  Peter disowns Jesus three times.
10
Jesus is interrogated by Herod and Pilate.
11
Jesus is beaten by Roman soldiers in the Praetorium.
12
Jesus is crucified at Golgotha.
13
Jesus is buried at the tomb of Joseph of Arimathea.  Three days later he rises to life.